Slingshot photo Gallery
Slingshots from Gary Miller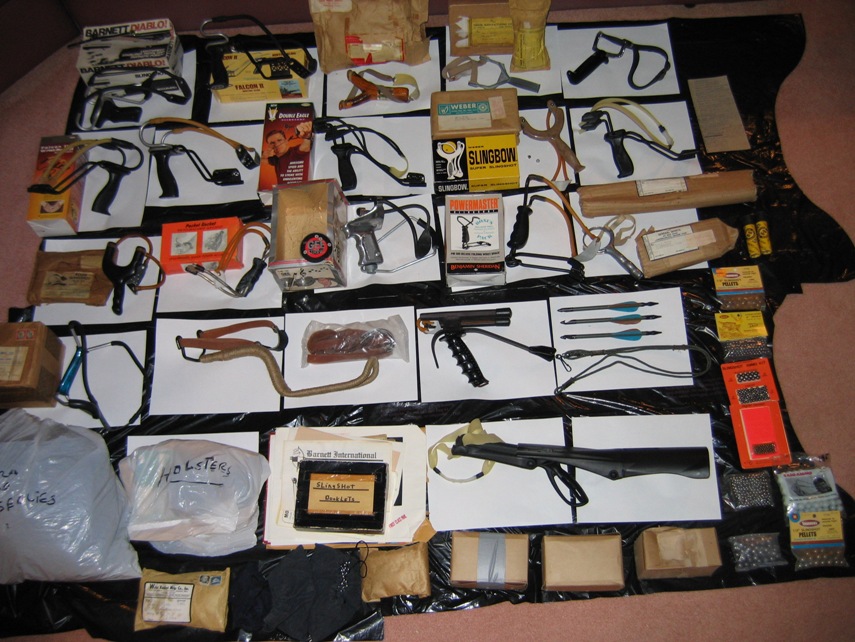 This is a great collection of slingshots! I will try to list them from upper left to lower right:


Barnett Diablo (early version)
Saunders Falcon 2 (early version)
Texas Rabbit Shooter
Tinker Killdeer
Blackhawk
Saunders Falcon 2 (new version)
Saunders Falcon
Saunders Double Eagle (early version)
Weber Slingbow
Saunders Double Eagle (new version)
Boler
Pocket-Rocket
G-String
Wham-o Powermaster
Scope-Shot
Wrist-Rocket
Nightstalker
Black Ninja
Arrow attachment for the Black Ninja
Saunders Wirst-Rocket Pro
..and lots of ammo, pouch assemblies and manuals
Some of them are rare collectible models, other are still in production. Thanks to Gary, I was able to make the "old slingshots" - section, and he also gave me the advertisements and lots of valuable information.